Experience a quality wine.
Experience an organic wine.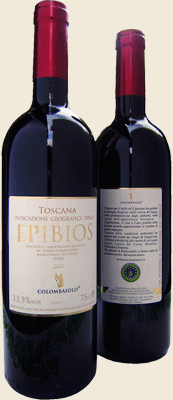 EPIBIOS
A drink of harmony between human and nature senses.
3 bottles (15.5/20) award of the Espresso guide Italy's wines/ I vini d'Italia 2009
Best award-Honour Degree of the Selection of Tuscany's wines/ Selezione dei vini di Toscana 2008
"Silver Award" at the International Organic Wine Award - BIOFACH 2009
4 bottles (16,5/20) award of l' Espresso Guide 2013: Wine of Italy
Admission in the Italian WineShop of Siena from March 1st, 2009
Yearbook of best wines of Italy, 2013 Luca Maroni (88/99)
Veronelli's wines guide 2013 - golden guide. (88/100)
Epibios is the single wine produced in the cellar of the Podere Colombaiolo. Its meaning, saved from wild boars, refers to the story of its birth: they were so greedy that used to graze among the vineyard, thwarting its growth.
Epibios is a red Tuscan IGT wine, created by assembling a three-kind selection of handy-gathered grapes: Sangiovese 40%, Cabernet Sauvignon 30%, Merlot 30%. These are cultivated according to the organic farming procedure, in the fields of the holding.
The wine is matured in the best barrels of French durmast, which are meant to help bring out the fruit aroma, with balance.
The colour looks like purplish veined, dark ruby red and the aroma reminds blackberries and fruits of the forest, in general.
Epibios has an intense and lasting taste, livened up by a pleasant tannin.
It is suggested be savoured along with meat and cheese dishes, as well as after dinner ("meditation wine").